What Are Sanctions and What Financial Institutions Need to Do?
Governments and international organisations issue sanctions as part of international trade and politics. Today, they are one of the common means of exerting foreign policy and economic pressure. Imposed on another country or individual citizens/entities of another country, sanctions are used to prohibit assets and impede commerce in order to achieve foreign policy and national security objectives.
In this article, we will look in detail the meaning and definition of sanctions, various types of sanctions with examples and the importance of sanctions screening within financial institutions.
What are sanctions?
Sanctions are punishments or penalties a country or an international body puts on another country or its citizens so that they are forced to change behaviour. Countries use sanctions against each other to fight economically rather than using military force. Hence, they have become a common tool in foreign relations and conflict resolution.
Sanctions are imposed on people and entities due to a variety of reasons including terrorism, terrorist funding, proliferation of weapons of mass destruction, arms trafficking, narco-trafficking, and war crimes.
Types of Sanctions
The following are the different types of sanctions:
Economic sanctions: These sanctions deal with ban on imports and exports of goods between imposing and target countries.
Financial sanctions: Here, the offshore financial assets of certain people or entities are frozen, so that they cannot access or transact their money in foreign bank accounts.
Unilateral sanctions: Here, a single country imposes sanctions on another country. Unilateral sanctions are risky but are very effective when they are imposed by an economically powerful country.
Multilateral sanctions: Here, a group of countries is supporting the use of sanctions against a country. These are less risky because they are imposed by a group of countries. These are imposed by international organisations such as the United Nations.
Export sanctions: These sanctions block import of goods into a country.
Import sanctions: Import sanctions block goods leaving the country.
Industry-specific sanctions: These target specific industries, such as an embargo on the sale of petroleum products. Since 1979, the US and European Union have prohibited the import of goods and services from Iran.
Individual sanctions: They target specific individuals such as political figures or business leaders who have international financial interests. For example, the US and EU sanctioned Putin's allies in March 2014.
Diplomatic sanctions: It is the reduction or removal of diplomatic ties, such as embassies, with a country.
Military sanctions: It involves military intervention in another country.
Who does impose sanctions?
Sanctions are imposed by international organisations (United Nations, Interpol), a group of nations (the European Union) and individual countries (the US, the UK, Canada, etc). These organisations and governments create sanctions regimes and publish sanction lists.
A number of targeted sanctions lists are maintained by governments and financial agencies across the world. Sanctions lists are often made accessible online so that firms may search and reference them before engaging in commerce with a foreign individual or company. The major sanction lists are listed below.
US Consolidated Sanctions List
Office of the Superintendent of Financial Institutions Sanctions List (Canada)
Bureau of Industry and Security Sanctions List (US)
Department of State, AECA Debarred List (US)
Department of State, Non-proliferation Sanctions List (US)
EU Financial Sanctions
UK Financial Sanctions (HMT)
Australian Sanctions
Consolidated Canadian Autonomous Sanctions List
European External Action Service Consolidated List
Us Cia World Leaders Pep List
World Presidents PEP List
Council of Europe Assembly PEP List
Every Politician PEP List
Switzerland Consolidated List
Capital Market Board Of Turkey Operation Banned List
Interpol Wanted List
Turkish Terror Wanted List
Interpol Yellow Wanted List
Interpol UN Wanted List
Importance of Sanctions Screening in Financial Institutions
Because sanctions are frequently accompanied by severe civil and criminal penalties, banks and financial institutions should regularly evaluate their compliance status and link their usage of sanctions lists with their internal systems and processes for detecting and reporting financial crime.
Although sanctions lists are relatively simple, in reality they require the processing of massive volumes of data, which includes not only the names of listed persons but also details like known aliases and physical location.
Considering that several organisations work with enormous numbers of clients and transactions on a daily basis, navigating sanctions lists on a case-by-case basis offers considerable administrative difficulty.
Companies may utilise a variety of screening techniques to streamline the search process. Compliance standards should be a consideration when selecting a screening platform. Officers in charge of anti-money laundering should ensure that their system is updated on a regular basis to maintain validity and accuracy.
Tookitaki Smart Screening Solution
Tookitaki created a Smart Screening solution using powerful machine learning and Natural Language Processing (NLP) techniques as part of its award-winning Anti-Money Laundering Suite (AMLS). The solution helps reliably score and detect a genuine match from a false match across names and transactions in real-time and batch mode while solving the aforesaid difficulties.
The solution covers politically exposed individuals (PEPs), unfavourable media, and local/internal blacklist databases in addition to sanctions lists. Within a financial institution, the transaction screening function triages and assesses dollars, products, and assets between parties or accounts.
For more details into our Smart Screening solution, speak to one of our AML experts.
Don't miss out on the latest insights in AML Compliance
Subscribe to Our Newsletter
Content that might peak your interest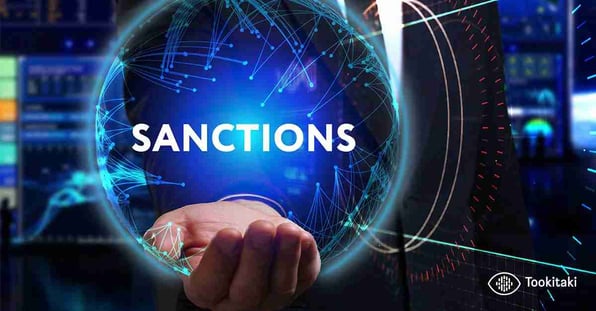 December 02 2021
7 mins
Governments and international organisations issue sanctions lists to prevent illicit activity, but what exactly are they?
Time to reform your compliances
Kickstart your journey by exploring our products or request a demonstration with us.