6AMLD: The Updated List of Predicate Offences
On 3 December 2020, the EU Sixth EU Anti-Money Laundering Directive (6AMLD) came into play for the members of the single currency region. The directive focuses on standardising the approach of EU member states to money laundering, as well as expanding the scope for potential liability for money laundering and the sanctions that member states are to impose under national legislature.
Its mission is to combat money laundering by giving the government and regulatory authorities more prosecuting power while businesses are to ensure compliance. The 6AMLD focuses on an extended list of predicate offences to better represent and address the growing problem of money laundering in the region.
Predicate offences under 6AMLD
A predicate offence or a predicate crime means a crime which is connected to a larger and serious crime. In our context, a predicate offense would mean any crime that generates monetary proceeds, leading the criminal to commit larger crimes such as money laundering and terrorist financing.
The 6AMLD is a logical extension of its previous directives as it aims to eliminate the existing loopholes between member states' domestic legislation and furthermore provide clear guidance on where the future focus should be. While there are numerous changes in 6AMLD that financial institutions need to be aware of, the broadening of money laundering predicate offences remains significant. The directive listed twenty-two specific predicate offences for money laundering which must be criminalised by all EU member states.
The list of predicate offences is given below:
Participation in an organised criminal group and racketeering
Terrorism
Trafficking in human beings and migrant smuggling
Sexual exploitation
Illicit trafficking in narcotic drugs and psychotropic substances
Illicit arms trafficking
illicit trafficking in stolen and other goods
Corruption
Fraud
Counterfeiting of currency
Counterfeiting and pirating of products
Environmental crime
Murder and grievous bodily injury
Kidnapping, illegal restraint and hostage-taking
Robbery or theft
Smuggling
Tax crimes relating to direct and indirect taxes
Extortion
Forgery
Piracy
Insider trading and market manipulation
Cybercrime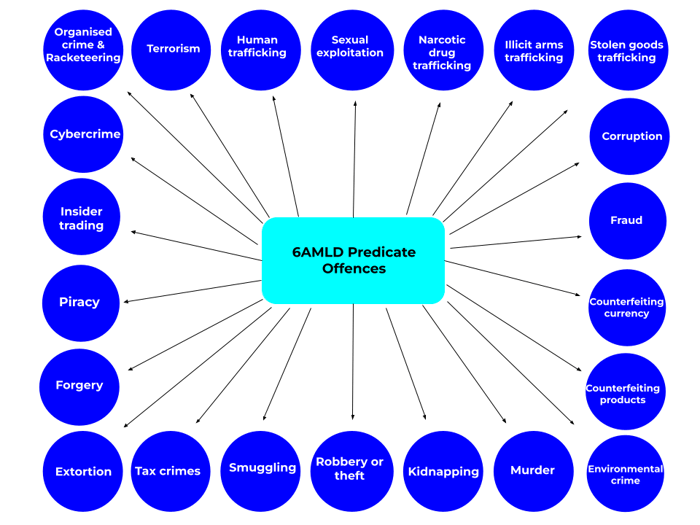 Tougher Punishments
To add another significant step, the 6th Anti-Money Laundering Directive has amended the maximum imprisonment for money laundering, which means that 'natural persons' will now face offences for up to four years alongside a variety of other sanctions. This is a big step in the right direction for the EU, clearly showing that they aim to take a stricter approach with individuals who are caught money laundering and want to prevent these offences in the future.
To add further, any sentence also includes punishments for legal persons, including exclusion from public benefits or aid, a (temporary or permanent) ban from doing business, compulsory winding-up, and a (temporary or permanent) closure of establishments. With 6AMLD as part of the legislation, tougher punishments are expected across the board.
What are the implications of predicate offences for financial institutions?
In order to identify the crime and implement the new provisions, financial institutions in the EU member states along with regulatory firms will have to gain a better understanding of the predicate offences, the risk factors and typologies involved. Furthermore, the directive has also broadened the scope of money laundering offences for it to include aiding, abetting and attempting to commit an offence of money laundering as a criminal offence. That means, the potential screening of a larger number of suspicious people.
Financial institutions need to evaluate the capabilities of their technology solutions to fulfill the new transaction monitoring and screening requirements under the latest directive along with managing their anti-money laundering resources and training their compliance staff.
Adverse media screening needs to be strengthened to assess the AML risk of potential and existing clients. With inclusion of additional crimes, it is likely that the existing adverse media screening tool produces a lot more false positives. Therefore, financial institutions should evaluate solutions that can automate screening workflows, while intelligently filtering out noise and focusing on alerts that matter.
How can Tookitaki help?
As an award-winning regulatory technology (RegTech) company, we are revolutionising financial crime detection and prevention for banks and fintechs with our cutting-edge solutions. A game changer in the space, we improve risk coverage by democratising AML insights via a privacy protected federated learning framework, powered by a network of AML experts.
We provide an end-to-end, AI-powered AML compliance platform, named the Anti-Money Laundering Suite (AMLS), with modular solutions that help financial institutions deal with the ever-changing financial crime landscape.
Our Smart Screening solution provides accurate screening of names and transactions across 18+ languages and a continuous monitoring framework for comprehensive risk management. Tookitaki's Customer Risk Scoring solution features a dynamic customer risk scoring engine which adapts to changing customer behaviour to build a 360-degree risk profile thereby providing a risk-based approach to client management. Furthermore, our Transaction Monitoring
solution provides comprehensive risk coverage and suspicious activity detection via a one-of-a-kind typology repository and automated threshold management.
Apart from necessary human resources, banks and financial services should have technological resources to carry out their AML compliance activities and duties effectively. Our modern software solution is based on artificial intelligence and machine learning, which can manage the end-to-end of AML compliance programmes. Our solution can improve the efficiency of the AML compliance team and better mitigate compliance risk.
Speak to one of our experts today to understand how our solutions help your compliance teams to ensure future-ready compliance programmes.

Content that might peak your interest
December 16 2020
4 mins
Criminals and terrorist groups are finding new and complex methods to conceal the illegal profits they earn via an online environment. Today, an extensive range of payment systems has become...
Time to reform your compliances
Kickstart your journey by exploring our products or request a demonstration with us