Research revealed that global regulators have remained strict with financial crime and sanctions compliance failings despite the COVID-19 pandemic. Governance and risk consultancy firm, Kroll says anti-money laundering (AML) fines in 2021 are likely to reach the high levels seen in 2020 and 2019, indicating the need for AML compliance officers to be vigilant more than ever.
Kroll found that total fines for AML and sanctions compliance shortcomings rose significantly in 2020 compared to 2019. Regulators' punitive measures were stricter despite the COVID-19 pandemic. Due to this, many financial institutions faced operational constraints and potential compliance lapses.
Soaring numbers
According to Kroll's latest Global Enforcement Review, fines related to financial crimes such as money laundering, bribery and sanctions totalled US$4.67 billion in 2020 compared to US$3.75 billion in 2019. However, the number of big fines (greater than US$1 million) issued fell to 56 in 2020 from 61 in 2019. Global financial crime fines totalled US$1.13 billion from 23 regulatory actions during the first half of 2021.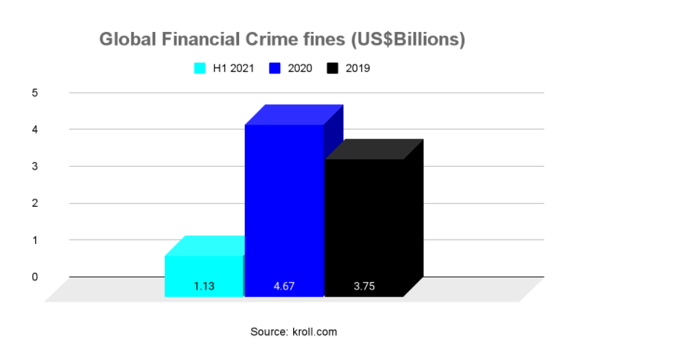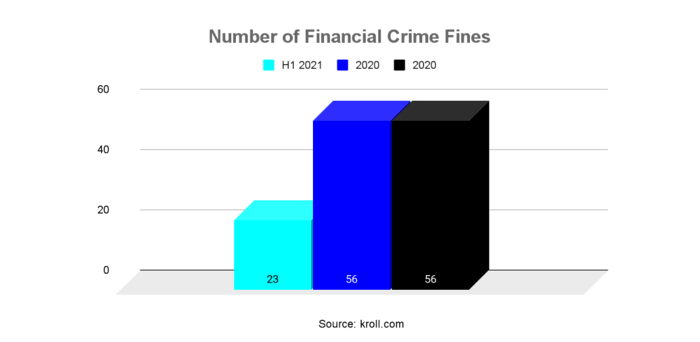 Kroll noted that AML remains a key area of focus for regulatory enforcement action globally. Among financial crimes, money laundering failures have on average dominated in terms of both the number of fines and fine values over the past five years. AML fines for banks and financial services soared to US$2.22 billion in 2020 from US$444 million in 2019. The number of AML fines stayed the same at 45 for both 2020 and 2019.
Global watchdogs issued US$994 million of AML fines in 17 actions in the first half of 2021. The value for full-year 2021 is expected to hit last year's tally of US$2.22 billion.
Regional break-up
Among regions, the UK and EU cumulatively registered the highest number of fines in 2020 at 36, compared to 35 in 2019. For the first half of 2021, the region had a total of 15 fines.
In the US, the tally rose to 29 in 2020 from 27 in 2019. The region has accumulated 17 fines during the first half of 2021. Regulators in the APAC region handed out 10, 16 and 19 fines in the first half of 2021, 2020 and 2019, respectively.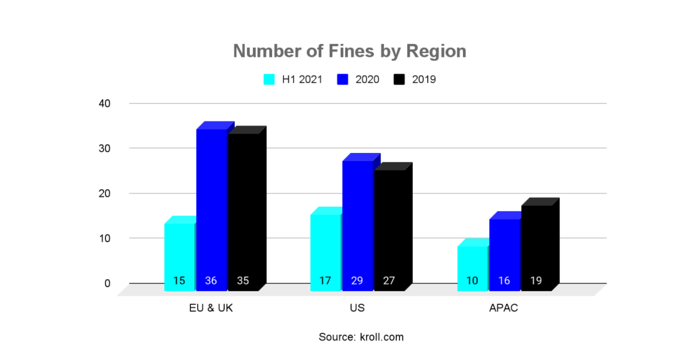 What do the numbers indicate?
The numbers largely indicate that regulators of AML compliance have remained just as strict in their scrutiny throughout the pandemic.
"Investigations were not paused for Covid-19," Financial Times quoted Claire Simm, head of financial services compliance and regulation at Kroll, as saying. "The value of fines has surged as regulators impose tougher penalties, continuing to send the message that despite any obstacles, enforcement remains a top priority."
Since the 2008 global financial crisis, the US has been leading the way in issuing fines, especially AML-related fines. In recent years, however, the Nordics and Australia have led the way with significantly high penalties.
The year 2020 was significant for the EU region in terms of AML penalties as Sweden's Finansinspektionen issued Europe's largest fine of €360 million against Swedbank. The regulator noted that the country's oldest and largest lender failed to ensure its affiliates in Estonia, Latvia and Lithuania had effective AML programs in place from 2015 to 2019.
"Globally, the number of fines issued in 2020 was at the same level as those in 2019, however, the total value of AML enforcement fines is five times higher in 2020 following numerous substantial fines by Nordic regulators," says Kroll. "Moreover, fine amounts in 2021 may reach similarly high levels as previous years, with the total value of AML fines as of June 2021 nearly half of the 2020 and 2017 totals."
The upcoming changes in AML regulations in the EU, including the creation of a new pan EU supervisory authority, is expected to result in increased enforcement action and larger fines within the region in the coming years.
According to Kroll, AML management, suspicious activity monitoring, customer due diligence, and compliance oversight are the most common failings across all regions during the last five years. The consultancy noted that firms should continue their investment in these areas to minimise financial crime risk and potential punitive actions from regulators.
How technology can help financial institutions manage AML compliance
When it comes to AML compliance, financial institutions are often troubled by regulatory uncertainties, complex money laundering techniques, outdated compliance systems, scarcity of skilled compliance staff and inefficient allocation of staff. A shortfall in any of these areas might lead to enforcement actions including hefty fines.
With modern technologies such as artificial intelligence and machine learning at the forefront, compliance departments can address many of these issues effectively. With proper implementation, these technologies can bring in a paradigm shift in the way financial institutions approach financial crimes and compliance risk at large.
This is an area where machine learning-powered platforms like Tookitaki can add value. Our end-to-end AML/CFT analytics solution, the Anti-Money Laundering Suite (AMLS), can create next-generation compliance programs, encompassing key processes such as transaction monitoring, AML screening and customer risk scoring on a single platform.
We enhance process efficiency and augment compliance risk cover with industry-first approaches: Typology Repository Management and Automated Model Management. Some of the benefits of our solution, which can take away much of the burden from the compliance staff, are listed below:
Improved risk coverage by detecting complex money laundering cases, including new-age methods such as cryptocurrencies and e-wallets.
Enhanced process efficiency with accurate triaging of alerts into three different buckets – L1, L2 and L3 – with L3 being the high-risk bucket.
Faster alerts disposition with explainable, defensible, and transparent machine learning models.
Faster business decision with around 70% reduction in manual work.
Auto creation of machine learning models and evolving them through Champion-Challenger process thereby minimising building and maintenance process.
Role-based dashboards providing complete business intelligence and actionable insights
If you want to know more about our AML compliance solutions and get a demo, please contact us.
Ready to Streamline Your AML Processes with Tookitaki?
Talk to An Expert!