Changes In The U.S. BIS Entity List Regarding Russia's Oil Sector
The U.S. Bureau of Industry and Security (BIS), which ensures effective export control and treaty compliance, provides various lists of 'parties of concern' for businesses to conduct additional due diligence in export transactions. The BIS Entity List, Denied Persons List, Unverified List, Military End User List and Consolidated Screening List, form an important measure to address the proliferation of weapons of mass destruction, to halt the spread of weapons to terrorists or countries of concern.
In this post, we will discuss the BIS Entity List, its importance in the foreign policy of the U.S. and the recent changes to the list, following the Russian attack on Ukraine.
What Is The Entity List?
The Entity List is a publicly accessible, continuously updated list of foreign parties (such as businesses, research institutions, government organisations and other legal entities) who are prohibited from receiving items subject to the Export Administration Regulations (EAR) unless the exporter obtains a licence.
BIS states that these parties present a greater risk of diversion to weapons of mass destruction (WMD) programmes, terrorism or other activities. As such, the Entity List is an important tool in preventing unauthorised trade in items subject to export controls.
The Entity List was first published by BIS in February 1997 as part of its efforts to alert the public about entities that have engaged in activities that potentially enhance the risk of WMD proliferation. Later, the country included those activities sanctioned by the State Department and activities contrary to U.S. national security and/or foreign policy interests as grounds for inclusion to the list.
Who is Added To The List?
Foreign parties, such as an individual, business, research institution, or government organisation, can be named in the list for engaging in activities contrary to U.S. national security and/or foreign policy interests. These parties are subject to specific licence requirements for the export, reexport and/or transfer (in-country) of specified items.
Persons on the Entity List are subject to additional licencing requirements and procedures beyond those specified elsewhere in the EAR on an individual basis. Supplement No. 4 to Part 744 of the EAR contains the Entity List.
Each entity on the list is assigned specific licensing requirements on the basis of national security and/or foreign policy considerations. Within the Entity List, the information for each listed entity includes the licence requirement, licence review policy, and Federal Register citation(s).
This is what the list looks like: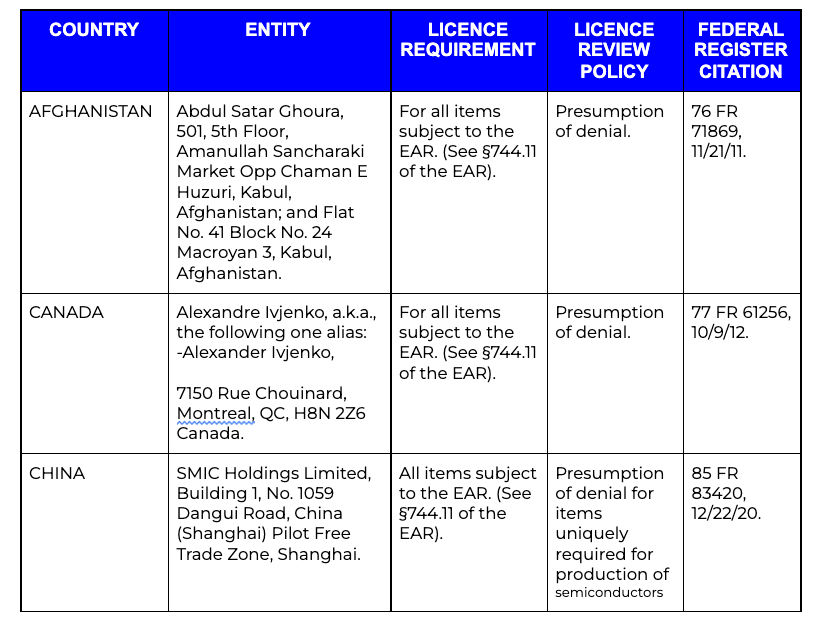 Recent Additions To The Entity List
In response to Russia's attack on Ukraine, the U.S. Commerce Department, through BIS, has targeted Russia's oil refining sector with new stringent export controls and listed 91 entities that support Russian military activities.
The department said these actions would further restrict access to U.S. commodities, software, and technology that Russia needs to sustain its military aggression.
The department added 91 new parties in 10 countries to the Entity List. These entities are located in: Russia (81), United Kingdom (3), Estonia (3), Spain (2), Malta (2), Kazakhstan (1), Latvia (1), Belize (1), Singapore (1), and Slovakia (1).
In addition, BIS issued a rule imposing a policy of denial on items required by the Russian deepwater oil and gas exploration and extraction industries. It also applied stringent restrictions on a wide variety of items necessary for refining oil.
Why Should Exporters Check The Entity List?
Exporters should check the Entity List because exports, reexports, and/or transfers (in-country) of specific items to those named are subject to licensing requirements and policies in addition to those elsewhere in the EAR. Failure to adhere to EAR licensing requirements is a violation of the EAR and could result in criminal and/or civil penalties.
BIS recommends that exporters screen the parties to transactions against the Entity List as a standard part of pre-transaction due diligence activities. While it is okay for a U.S. company to have dealings with a listed entity, BIS considers that transactions with listed entities carry a red flag.
The Importance Of An Entity List Screening Solution
If a business is dealing with items listed in EAR, it is their duty to screen their customers against the Entity List before conducting export transactions. They need to clearly identify the licensing requirements of the products to be exported and the end-use of the products by their customers.
This pre-transaction due diligence process frequently entails a large number of record-keeping duties, making manual screening prone to errors or impossible. As a result, many firms are implementing automated screening systems to improve the efficiency and effectiveness of these operations. Such tools can also readily adjust to changes in the Entity List, such as additions and removals.
Our Smart Screening Solution
Our Smart Screening solution, powered by real-time screening and cutting-edge machine learning technology, enables efficient, accurate, risk-based screening against any watchlists.
Our powerful name matching engine screens and prioritises all name search hits, ensuring efficiency in the investigation process and reducing the cost of compliance. It is scalable to support massive watchlist data, enabling you to achieve 80% precision and 90% recall levels in your screening programme.
To know more about our Smart Screening solution, speak to one of our experts today.
Ready to Streamline Your AML Processes with Tookitaki?
Talk to An Expert!