Bank Secrecy Act or BSA: The cornerstone of AML regulation in the US
The BSA, which stands for the Bank Secrecy Act of 1970, forms the core of the US' action against money laundering. BSA compliance is mandatory for various banks and financial institutions in the country, and any lapses in this would attract fines and other regulatory actions.
In order to counter money laundering, governments and intergovernmental agencies have formulated rules, recommendations and procedures for subject entities and individuals. These together form anti-money laundering (AML) frameworks for regions and countries. AML frameworks are necessary for the safety of economies and societies, as they work as guidelines for detecting and preventing money laundering and related crimes.
Being an economically developed country, the US finds money laundering a serious problem affecting its financial system. It is estimated that about half of the money being laundered across the globe is done via financial institutions in the US. The country has formulated various rules and regulations in a timely manner to combat the problem of money laundering.
What is BSA or the Bank Secrecy Act?
The Bank Secrecy Act (BSA) is the United States' most important anti money laundering regulation. Banks and other financial institutions in the country must ensure they meet the compliance obligations it involves. Introduced in 1970, the regulation is also known as the Currency and Foreign Transactions Reporting Act.
After having passed by the US Congress, President Richard Nixon signed it into law in October 1970. It was formed to prevent financial institutions in the US from being used as tools by criminals to hide or launder their illegal gains. The regulation requires institutions to take necessary steps to monitor and detect potential money laundering activities and report them to the authorities to take enforcement action. The BSA is administered by the Financial Crimes Enforcement Network (FinCEN).
What are the requirements of the Bank Secrecy Act?
Banks and other financial institutions in the US are mandated to fulfil certain obligations under the BSA. They include implementing a risk-based AML program with effective customer due diligence (CDD) and screening procedures. The institutions are also required to do a range of reporting and record-keeping when they deal with suspicious transactions and customers involved in potential money laundering and other crimes. Those who fail to comply with the BSA AML regulations are sanctioned. The major provisions of the BSA are the following:
Recordkeeping and reporting requirements by private individuals, banks and other financial institutions
Measures to identify the source, volume, and movement of currency and other monetary instruments transported or transmitted into or out of the US or deposited in financial institutions
Requirements for banks to:

(1) report cash transactions over $10,000 using the Currency Transaction Report (CTR)
(2) properly identify persons conducting transactions
(3) maintain a paper trail by keeping appropriate records of financial transactions
What is BSA Compliance?
BSA compliance or BSA AML compliance refers to financial institutions' adherence to the provisions and requirements of the BSA so that the US financial system is not abused for criminal activities. As the designated administrator of the BSA, the FinCEN states its mission is to "safeguard the financial system from the abuses of financial crime, including terrorist financing, money laundering and other illicit activity."
FinCEN ensures that financial institutions are adhering to BSA/AML Compliance norms and makes regular checks if they fulfil the three main AML requirements of the BSA.
The three main AML requirements of the BSA are:
Reporting cash transactions over a set threshold using the Currency Transaction Report (CTR)
Proper identification of those conducting transactions
Keeping appropriate and necessary records of financial transactions to maintain an accurate paper trail
BSA AML Compliance Programme
In order to build an effective BSA AML Compliance Program, financial institutions need to ensure that they follow the BSA/AML pillars. The following are the five pillars of BSA AML Compliance.
1. Internal controls
It involves examining factors like geographic location, types of services offered, and customers served to mitigate the risk of money laundering. Internal controls vary based on the type of financial institution. A small credit union in the US will have entirely different internal controls compared to a nation-wide banking chain.
2. Designation of a BSA AML officer
Every financial institution should have a designated BSA/AML compliance officer who has ample experience in BSA AML compliance. The officer should be able to identify weak areas in the institution's business plan and operations.
3. Establishment of BSA AML training programme
The compliance officer should also establish a BSA AML training program and to train all institutional staff.
4. Independent testing of compliance programme
Every financial institution should test their BSA/AML compliance program on an annual basis by involving a third party. This will help spot gaps in the compliance policy and direct institutions to take remedies if needed.
5. Customer due diligence (CDD)
CDD requires financial institutions to verify a customer's identity, assess their AML/CFT risk, comprehend their financial habits, and ensure procedures to catch abnormalities.
All these five pillars together form the core of a successful BSA AML compliance programme.
Record keeping & reporting requirements under BSA
In order to ensure robust BSA AML compliance, financial institutions are required to keep detailed records of suspicious activities. They must maintain a log of purchases of monetary instruments including travellers' checks and cashiers' checks of between US$3,000 –10,000. The log should have verified the identities of purchasers with the aggregated value of their transactions.
The BSA also mandates financial institutions to do a number of reporting and filings with FinCEN when they encounter potential AML activities. These obligations are detailed in the following table.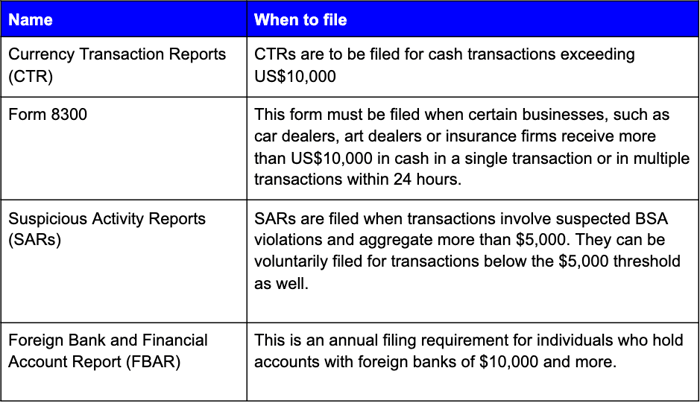 Most of these reports can be filed electronically, using FinCEN's BSA e-Filing system. Organisations are required to submit a formal application to FinCEN to obtain access to the e-Filing system.
The role of Regtech in BSA banking
For banks in the US, non-compliance with the provisions of the BSA could be detrimental to their business in a number of ways. Failing to properly file CTRs and SARs, would lead to heavy fines and regulatory restrictions, including charter revocation, and even prison sentences for staff responsible. In 2018, U.S. Bancorp was fined $613 million for willful violations of the Bank Secrecy Act. Apart from the financial losses, non-compliance can tarnish an institution's reputation in front of customers, investors and employees. Often, it takes many years to rebuild the damage caused to the reputation.
In order to comply with the BSA, financial institutions resort to many software solutions that analyse transactions based on specified rules and come up with SAR filing suggestions. These solutions are known as anti-money laundering software. However, traditional rule-based solutions produce a large number of false-positive alerts that impact staff productivity. Today, modern technologies like AI and machine learning are being used in BSA compliance. Compared to legacy solutions, AI-based solutions can significantly improve both process efficiency and compliance effectiveness. There are various Regtech solutions that can ensure BSA AML compliance in a sustainable manner.
Tookitaki and BSA compliance
Tookitaki has developed an end-to-end AML compliance platform called the Anti-Money Laundering Suite (AMLS). It offers multiple solutions catering to the core AML activities such as transaction monitoring, name screening, transaction screening and customer risk scoring. Powered by advanced machine learning, AMLS addresses market needs and provides an effective and scalable BSA AML compliance solution.
To learn more about our AML solution and its unique features, please get in touch with us.
Ready to Streamline Your AML Processes with Tookitaki?
Talk to An Expert!