Maximising Efficiency in AML Compliance for Philippine Digital Banks
In recent years, digital banks have been growing in popularity in the Philippines as more and more consumers turn to online banking services. However, with this growth comes the challenge of ensuring compliance with anti-money laundering (AML) regulations.
AML compliance has become a crucial element for the success of digital banks in the Philippines. The country's central bank, Bangko Sentral ng Pilipinas (BSP), has recently implemented strict regulations to curb money laundering and terrorist financing activities. Digital banks, being more susceptible to financial crimes, must comply with these regulations to maintain their operations in the country.
While traditional banks have long-established systems and processes for AML compliance, digital banks face unique challenges due to the nature of their operations. These challenges include onboarding customers remotely, managing real-time transactions, and monitoring suspicious activity across multiple channels.
To address these challenges, digital banks need an AML compliance platform that is efficient, effective, and tailored to their specific needs. That's where Tookitaki's platform comes in. This blog will explore how digital banks in the Philippines can maximise efficiency and effectiveness in AML compliance with Tookitaki's platform.
The Rise of Digital Banks: Meeting Evolving Customer Needs with Technological Disruption
Digital banking is on the rise globally as the traditional banking sector struggles to keep up with technological advancements. Digital banks, also known as neobanks, offer more efficient services and are better aligned with evolving customer needs.
As per a report by Juniper Research, more than half of the world's population will access digital banking by 2026.
Digital banks offer similar services to traditional banks, such as savings accounts, money transfer services, and financial education solutions, among others, but in a more efficient way. Customers can almost carry out any financial activities from the comfort of their homes, making accessibility and security significant factors for preferring digital banks over traditional banks.
Digital Banking in the Philippines
The Philippines is experiencing a digital banking boom with the rise of mobile-first and digital-only banks. With a staggering 71% of Filipino adults being unbanked, digital banking presents an opportunity for financial inclusion and growth in the country. The global digital banking market size is forecasted to reach $30.75 billion by 2026, at a compound annual growth rate (CAGR) of 19% during 2021-2026.
Challenges in AML Compliance for Digital Banks in the Philippines
The BSP has been implementing strict AML regulations to combat these crimes. Digital banks in the Philippines must comply with these regulations to obtain and maintain their licenses. Failure to comply with these regulations can result in severe penalties, including fines and revocation of licenses.
Digital banks in the Philippines face unique challenges related to AML compliance. While digital banks are revolutionising the financial industry, they must also comply with AML regulations to prevent illicit financial activities. The limitations of traditional approaches to AML compliance, such as rules-based approaches, do not effectively address the dynamic and complex nature of digital transactions.
To ensure effective AML compliance, digital banks need more efficient and effective solutions. With the lack of digital infrastructure and underdeveloped payment infrastructure in the Philippines, AML compliance can challenge digital banks. It is crucial to implement AML solutions that leverage technology and can detect and prevent emerging financial crime techniques, such as money laundering and fraud.
The Role of Technology in AML Compliance for Digital Banks in the Philippines
Technology has significantly changed the way AML compliance is achieved, and digital banks in the Philippines can greatly benefit from its implementation. The use of advanced analytics and artificial intelligence can help in identifying suspicious activities and detecting financial crime in real time, leading to quicker investigations and better risk management. Additionally, using automated AML compliance processes can reduce the risk of human error, improve the efficiency of compliance processes, and ultimately reduce the cost of compliance for digital banks.

Moreover, technology can assist in maintaining records and transaction monitoring, which are essential in AML compliance. It can enable digital banks to identify and analyze customer behaviour, monitor transactions, and detect unusual activity patterns that may indicate money laundering or terrorist financing. Furthermore, technology can be used to share data and information between digital banks, regulators, and law enforcement agencies to improve cooperation in detecting and preventing financial crimes.
By leveraging technology, digital banks in the Philippines can achieve more effective and efficient AML compliance, reduce the risk of financial crimes, and ultimately build trust and credibility with their customers.

Tookitaki's Platform for AML Compliance for Digital Banks in the Philippines
As a global leader in financial crime prevention software, Tookitaki revolutionises the fight against financial crime by breaking the siloed AML approach and connecting the community through our innovative Anti-Money Laundering Suite (AMLS) and Anti-Financial Crime (AFC) Ecosystem. Its unique community-based approach empowers financial institutions to effectively detect, prevent, and combat money laundering and related criminal activities, resulting in a sustainable AML program with holistic risk coverage, sharper detection, and fewer false alerts.
Tookitaki AMLS is an end-to-end operating system that modernises compliance processes for banks and fintechs. In parallel, our AFC Ecosystem serves as a community of experts dedicated to uncovering hidden money trails that traditional methods cannot detect. Powered by federated machine learning, the AMLS collaborates with the AFC Ecosystem to ensure that financial institutions stay ahead of the curve in their AML programs.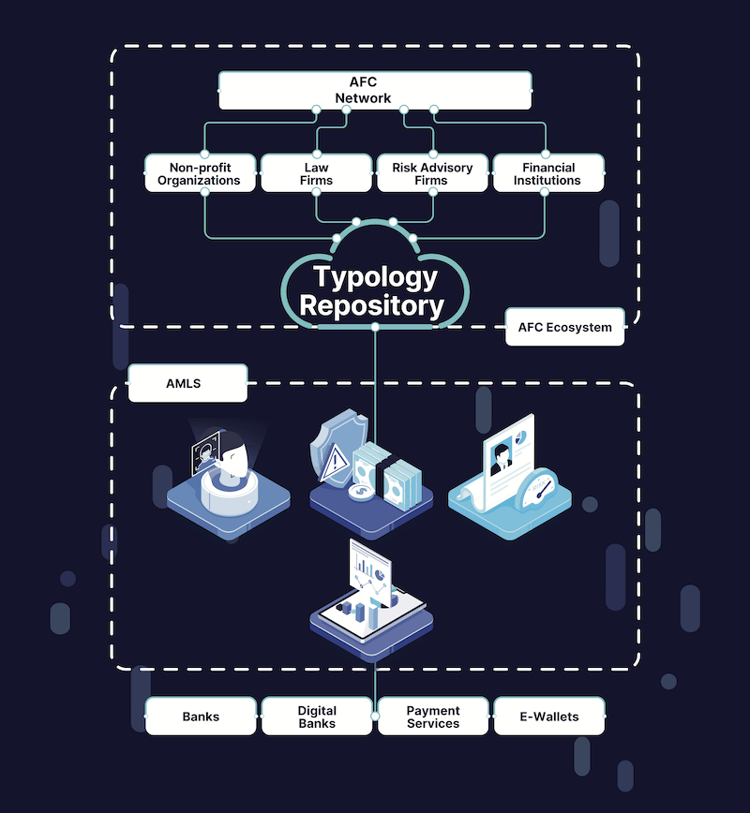 The AMLS includes several modules such as Transaction Monitoring, Smart Screening, Dynamic Risk Scoring, and Case Manager. These modules work together to provide a comprehensive compliance solution that covers all aspects of AML, including detection, investigation, and reporting. The platform helps digital banks in the Philippines to:
Conduct Customer Due Diligence: Tookitaki's Smart Screening module can screen prospects, customers and counterparties against sanctions lists, PEPs, and other watchlists. It includes 50+ name-matching techniques and supports multiple attributes such as name, address, gender, date of birth, and date of incorporation. It covers 20+ languages and ten different scripts to help digital banks conduct screening at the time of onboarding and on an ongoing basis.
Conduct Risk Assessments: Tookitaki's Dynamic Risk Scoring module can analyse large amounts of customer data to identify high-risk customers. It can identify patterns and anomalies in customer behaviour and transactions. By identifying high-risk customers, digital banks can conduct enhanced due diligence to ensure that these customers are not involved in money laundering or terrorist financing activities.
Monitor Transactions: The Transaction Monitoring module is designed to detect suspicious patterns of financial transactions that may indicate money laundering or other financial crimes. It utilizes powerful simulation modes for automated threshold tuning, allowing AML teams to focus on the most relevant alerts and improve their efficiency.
Conduct Quality Investigations and File Regulatory Reports: The Case Manager provides compliance teams with the platform to collaborate on cases and work seamlessly across teams. It provides digital banks with a comprehensive view of customer data, enabling them to conduct thorough investigations. It has built-in regulatory reporting templates that can be customised for each country.
Overall, Tookitaki's platform for AML compliance provides digital banks in the Philippines with a powerful tool to achieve regulatory compliance while minimising financial crime risk. By leveraging cutting-edge technology and advanced analytics, digital banks can stay ahead of the curve in the rapidly evolving digital finance landscape.
Tookitaki's platform automates several aspects of AML compliance, reducing the need for manual processes. By automating AML compliance processes, digital banks can improve their efficiency and reduce the risk of errors. Tookitaki's platform's unique community-based approach helps identify high-risk customers and transactions and generate alerts for suspicious activities. By enhancing the effectiveness of their AML compliance program, digital banks can reduce the risk of financial crimes and comply with regulatory requirements.
Achieving AML Compliance with Ease: The Role of Tookitaki's Platform for Digital Banks
Traditional approaches to AML compliance fall short of addressing digital banks' challenges in achieving efficient and effective compliance. The rise of digital banks in the Philippines highlights the need for more advanced and innovative solutions for AML compliance.

Tookitaki's platform offers digital banks in the Philippines a comprehensive solution for AML compliance, incorporating the latest technology and a community-based approach to ensure the highest level of accuracy and efficiency. With Tookitaki's platform, digital banks in the Philippines can achieve AML compliance seamlessly and effectively, enhancing their overall security and reputation in the industry.

We encourage digital banks in the Philippines to learn more about Tookitaki's platform for AML compliance and take advantage of its features to enhance their AML compliance measures. Contact Tookitaki today to schedule a demo and discover how the platform can benefit your digital bank.


Ready to Streamline Your AML Processes with Tookitaki?
Talk to An Expert!