E-wallets have become increasingly popular in recent years, and the trend shows no signs of slowing down. As more people move away from traditional payment methods, such as cash and checks, e-wallets are becoming the go-to choice for online and in-person transactions. However, with the growth of e-wallets come new challenges in terms of security. Ensuring secure payment services is essential for e-wallet providers to maintain the trust of their users. In this blog, we'll explore the rise of e-wallets and how Tookitaki is helping ensure secure payment services for users.
The Rise of E-wallets
E-wallets, also known as digital wallets or mobile wallets, are essentially virtual versions of traditional wallets. They have become increasingly popular in recent years, with more and more people using them as a convenient alternative to traditional payment methods. With e-wallets, users can make purchases, transfer funds, and even pay bills without the need for cash or checks.
According to a report by Market Research Future, the global mobile wallet market is expected to reach USD 51.53 billion by 2030, expanding at a CAGR of 27.4% from 2022 to 2030. Another report by KBV Research states that the global mobile wallet market is expected to reach $30.2 billion by 2028, rising at a market growth of 27.0% CAGR during the forecast period.
The growth of e-wallets can be attributed to a number of factors. For one, they offer a convenient and secure way to make payments. Users no longer need to carry around physical wallets or worry about losing their cash or credit cards. E-wallets also offer greater flexibility, allowing users to manage multiple payment methods and currencies all in one place.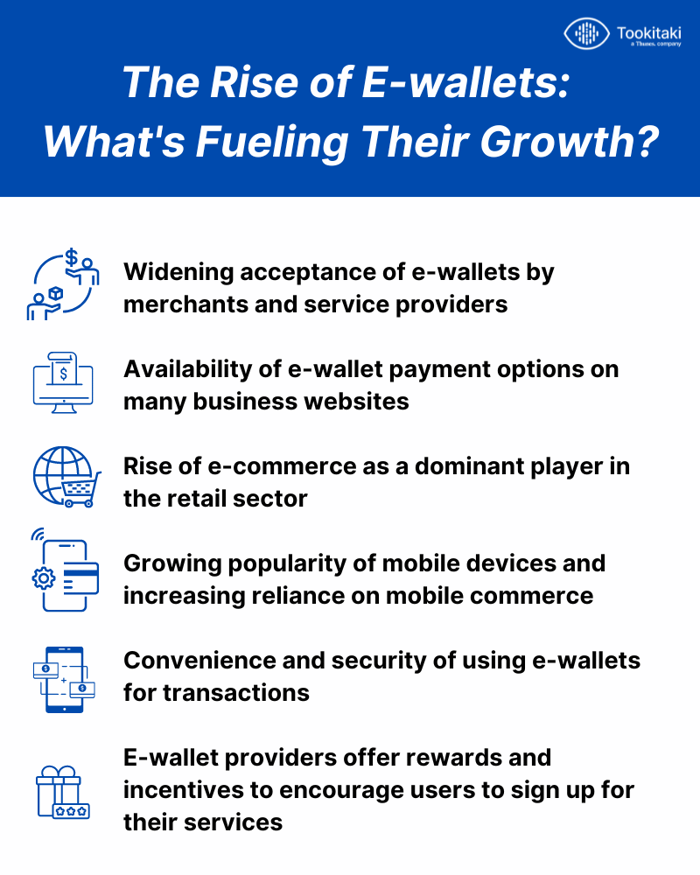 Financial Crime Challenges of E-wallets
E-wallets' popularity has also attracted the attention of criminals shifting away from traditional methods and digital avenues. This has resulted in new financial crime challenges for e-wallet providers and financial institutions, who must ensure the security of their systems and protect their users' funds from theft and fraud. E-wallets are vulnerable to a range of security threats, including hacking, phishing, and identity theft. When e-wallet security is breached, the consequences can be severe, including financial loss and damage to the reputation of the e-wallet provider.
Another challenge of e-wallet financial crime is money laundering. With the use of e-wallets, it has become easier for criminals to transfer large sums of money across borders, making it difficult for law enforcement agencies to track and prevent money laundering activities. This has led to an increased focus on anti-money laundering (AML) regulations for e-wallet providers and financial institutions, which are expected to have strong AML measures in place.
E-wallet providers must ensure that their systems are secure and protected from cyber-attacks, which can result in financial loss and damage to the reputation of the provider. It is essential for e-wallet providers and financial institutions to work together to address these financial crime challenges and ensure the safety and security of e-wallet users' funds.
How Tookitaki Ensures Secure Payment Services
As the use of e-wallets continues to grow, the need for secure payment services becomes increasingly important. Tookitaki is a financial technology company that specializes in providing leading-edge AML compliance solutions for e-wallets and payment service providers. Tookitaki's solutions can be customized to fit the needs of individual businesses, providing a tailored approach to money laundering detection and prevention. This is particularly important for e-wallet providers, as they are subject to a range of regulations aimed at protecting users' financial information.
Tookitaki is revolutionizing financial crime detection and prevention for banks and fintechs through our Anti-Money Laundering Suite (AMLS) and Anti-Financial Crime (AFC) Ecosystem. Its unique community-based approach addresses the silos used by criminals to bypass traditional solutions, resulting in a sustainable AML program with holistic risk coverage, sharper detection, and fewer false alerts.
The AFC Ecosystem
The Anti-Financial Crime (AFC) Ecosystem is a separate platform developed by Tookitaki to aid in the fight against financial crime. It is designed to work alongside Tookitaki's Anti-Money Laundering Suite (AMLS) to provide a comprehensive solution for financial institutions.
One of the key features of the AFC ecosystem is the Typology Repository. This is a database of money laundering techniques and schemes that have been identified by financial institutions around the world. Financial institutions can contribute to the repository by sharing their money laundering experiences and knowledge. This allows the community of financial institutions to work together to tackle financial crime by sharing information and best practices.
The Anti-Money Laundering Suite
Tookitaki's AMLS is an end-to-end operating system that helps financial institutions detect and prevent financial crimes. It includes several modules such as Transaction Monitoring, Smart Screening, Customer Risk Scoring, and Case Manager. These modules work together to provide a comprehensive compliance solution that covers all aspects of AML, including detection, investigation, and reporting.
Transaction Monitoring: The Transaction Monitoring module is designed to detect suspicious patterns of financial transactions that may indicate money laundering or other financial crimes. It utilizes powerful simulation modes for automated threshold tuning, which allows AML teams to focus on the most relevant alerts and improve their overall efficiency. The module also includes a built-in sandbox environment, which allows financial institutions to test and deploy new typologies in a matter of minutes.
Smart Screening: The Smart Screening module is designed to detect potential matches against sanctions lists, PEPs, and other watchlists. It includes 50+ name-matching techniques and supports multiple attributes such as name, address, gender, date of birth, and date of incorporation. It covers 20+ languages and ten different scripts.
Customer Risk Scoring: The Customer Risk Scoring solution is a flexible and scalable customer risk ranking program that adapts to changing customer behavior and compliance requirements. The module creates a dynamic, 360-degree risk profile of customers. It enables financial institutions to uncover hidden risks and opens up new business opportunities.
Case Manager: The Case Manager provides compliance teams with the platform to collaborate on cases and work seamlessly across teams. It comes with a host of automation built to empower investigators. Financial institutions can configure the Case Manager to automate processes such as case creation, allocation, data gathering, and so on, allowing investigators to become more effective.
Ensure Secure and Compliant E-Wallet Services with Tookitaki
The growth of e-wallets has been impressive, and their popularity shows no signs of slowing down. With this growth, however, comes the need for secure payment services that can protect users' financial information from fraud and theft. Tookitaki offers a range of solutions to help businesses meet this need, including fraud prevention and compliance services. With Tookitaki's help, e-wallet users can rest assured that their financial transactions are secure and protected.
Are you an e-wallet provider looking for a comprehensive AML compliance program? Look no further than Tookitaki! Book a demo today to learn how our cutting-edge solutions can help you ensure secure and compliant e-wallet services for your customers.
Ready to Streamline Your AML Processes with Tookitaki?
Talk to An Expert!