What Made Us Earn the WEF Technology Pioneer Title
Tookitaki has bagged another global acknowledgement for its outstanding works in the regulatory compliance field. Our company was selected among hundreds of candidates as one of the World Economic Forum's "Technology Pioneers" for its innovative anti-money laundering software, the Anti-Money Laundering Suite (AMLS). For those who are not familiar with the title, the World Economic Forum's Technology Pioneers are early to growth-stage companies that are involved in the design, development and deployment of new technologies and innovations, and are poised to have a significant impact on business and society. The full list of the 2019 cohort of technology pioneers, who are from a diverse set of industries, can be found here.
To grab this prestigious title, Tookitaki has successfully presented AMLS, an end-to-end, machine learning-powered solution, which improves operational efficiency, mitigates the risk of money laundering and reduces the cost of compliance, before the World Economic Forum panel. The solution has already proven its efficacy during a pilot project with United Overseas Bank (UOB), where it was able to reduce false alerts and improve the detection of true suspicious cases significantly with the help of its powerful algorithms.
AMLS takes care of two core compliance functions, namely transaction monitoring and name screening. Transaction monitoring helps banks identify and report suspicious transactions for investigation, while names screening enables them to identify high-risk individuals and entities. In order to carry out the above key functions, most of the banks use rules-based solutions which are not sustainable due to the following reasons:
These solutions employ a unidimensional detection logic (eg. Transactional behaviour) that fail to successfully identify sophisticated money laundering operations, leading to reputational and financial risk.
These can become obsolete in the current times of criminal organizations which are employing professional money laundering cells that do not operate within the confines of static, predefined, overly-broad transactional actions.
They do not offer robust explanations for alerts and unable to scale with new policies.
From an efficiency point of view, they produce a large number of false alerts (alerts that are found to be non-risk cases after investigation), leading to huge backlogs and massive ageing of alerts.
With AMLS, banks can drastically improve the overall functioning of their AML/CFT programmes by increasing effectiveness and efficiency. To quantify the impact, we have seen a 40% reduction in false alerts and 5% uplift in suspicious transaction reports (STRs) for transaction monitoring. For names and sanctions screening, the solution delivered a 50-60% reduction in false alerts across individuals and corporates.
To summarize, our solution effectively addresses the shortfalls of current AML solutions by providing the below benefits:
Improves risk coverage by identifying new STRs
Reduces false positives and improves efficiency in the alerts disposition process
Provides detailed explanations for every alert to ensure better regulatory compliance
Provides actionable analytics for an integrated AML view across key components of transaction monitoring and name screening
Complements and integrates seamlessly with existing AML systems
Following its selection as Technology Pioneer, Tookitaki CEO Abhishek Chatterjee was invited to participate in the WEF Annual Meeting of the New Champions. This meeting, also dubbed "Summer Davos" is being held in Dalian, China, July 1-3. Many Pioneers will also attend the Annual Meeting in Davos, in January 2020, and continue to contribute to Forum initiatives over the next two years.
"Tookitaki is extremely delighted and honoured to be acknowledged as a pioneer by the World Economic Forum", said Chatterjee. "This rare feat confirms the robustness and uniqueness of our technology in building a better compliant world. Money laundering is a crime of momentous concern across the globe due to its growing size and complexity, while the current detection techniques seriously lag behind. Our future-proof solution can aptly address money laundering and we look forward to contributing to the Forum dialogues on this challenge."
"We're excited to welcome Tookitaki to this year's innovative class of technology pioneers," says Fulvia Montresor, Head of Technology Pioneers at the WEF. "Tookitaki and its fellow pioneers are leaders in using novel technologies to transform their industries. We see great potential for these next-generation companies to shape solutions to global challenges and improve society for years to come."
The Technology Pioneers were selected by a selection committee of more than 59 academics, entrepreneurs, venture capitalists and corporate executives. The committee based its decisions on criteria including innovation, potential impact and leadership. Past recipients include Airbnb, Google, Kickstarter, Mozilla, Palantir Technologies, Spotify, TransferWise, Twitter and Wikimedia.
The official press release from the World Economic Forum can be found here.
Content that might peak your interest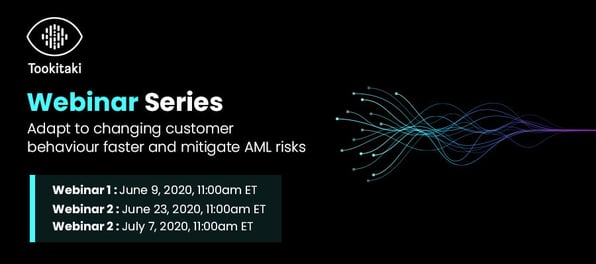 May 27 2020
2 mins
The world continues to battle the COVID-19 pandemic and the crisis it brought in is unprecedented in the history of humankind. While there are a number of pandemic-related factors contributing to the...
Time to reform your compliances
Kickstart your journey by exploring our products or request a demonstration with us