AMLA 2020: 8 Key Provisions that Financial Institutions Should Know
The US Congress passed the National Defense Authorization Act (NDAA) 2021 on January 1, 2021, addressing a variety of pressing concerns related to the nation's security. The act included a number of reforms related to the country's response to anti-money laundering/countering the financing of terrorism (AML/CFT). Named the Anti-Money Laundering Act (AMLA) of 2020, the AML/CFT reforms are considered substantial as they amended a large number of provisions in the USA PATRIOT Act of 2001 as well as the Bank Secrecy Act (BSA). "This bipartisan legislation protects Americans by depriving criminals and terrorists of the tools they use to finance illicit activity. It is the first serious overhaul of our anti-money laundering system in decades, and it makes sense to include it in the biggest, most important national defense legislation Congress passes each year," said Mike Rounds, Senator (South Dakota).
Enacted with bipartisan support, the latest reforms are in line with the US' recent policy changes related sanctions, export controls, anti-corruption and foreign investment. As is the case with AML reforms in any country, financial institutions are the primary ones who are going to bear the brunt of AMLA. A highlight of the act – some business types other than the traditional financial institutions have been added to the AML/CFT compliance limelight. In this article, we will look through the major provisions of the AMLA and its impacts on financial institutions.
Major provisions of AMLA 2020
Here are the important provisions that make the act groundbreaking.
Disclosure of Ultimate Beneficial Ownership (UBO)
The AMLA requires certain companies to disclose beneficial ownership information to the US Financial Crimes Enforcement Network (FinCEN). Aimed at shell companies, the details to be disclosed include beneficial owner's full name, date of birth, current address, and unique identifying number from a valid passport, driver's license, or other state-issued identification document. The act also clears the air on the definition of "beneficial owner", clarified as an individual who directly or indirectly (i) exercises "substantial control" over an entity, or (ii) owns or controls not less than 25 percent of an entity. The measure will "improve transparency" and provide national agencies and financial institutions with "the modern tools they need to crack down on money laundering and terrorist financing", according to Senator Doug Jones (Alabama).
Once the Secretary of the Treasury comes up with regulations implementing the beneficial ownership reporting requirements, financial institutions are required to develop written and "reasonably designed" procedures to identify and verify the beneficial owners of their legal entity customers.
Enhanced authority for regulators to seek documents from foreign institutions
Under Section 6308 of the AMLA, the Treasury Department and the Department of Justice can ask for additional documents from foreign banks that maintain a correspondent account in the US. It enables the government agencies to access records of any account at the foreign bank relevant to certain investigations as well as the foreign banks' records related to the correspondent account. In case of a failure to cooperate, the DoJ can seek contempt sanctions against foreign banks and require the US correspondent banks to end relationships with such foreign banks.
Expansion of the AML/CFT regime to emerging financial markets
The AMLA expanded the definition of financial institutions and money transmitters to include service providers involving "value that substitutes for currency" (eg. cryptocurrencies).
Higher penalties for BSA and AML violations
Under the AMLA, the Secretary of the Treasury has the power to impose additional civil monetary penalties for certain repeat violators of AML laws. The penalties can amount to three times the profit derived, or loss avoided as a result of the violation or two times the maximum penalty for the violation. Further, the AMLA has provisions for repaying any bonus paid to certain partners, directors, officers, or employees of financial institutions convicted for BSA violations. In addition, any individual can be barred from serving on the board of directors in the US for 10 years if he or she is convicted for an "egregious violation" of the BSA.
Sharing Suspicious Activity Reports (SARs) with foreign agencies
The AMLA provisions a three-year pilot program under which US financial institutions would be able to share SARs with foreign branches, subsidiaries, and affiliates, except for those in jurisdictions subject to US sanctions. As per the current FinCEN guidance, US financial institutions can share SARs only with parent companies in a foreign jurisdiction.
Annual reporting of all settlements involving BSA
Under section 6311 of the AMLA, the DoJ should report all deferred prosecution agreements and non-prosecution agreements during the prior year with respect to actual or suspected BSA violations to the Congressional judiciary and banking committees on an annual basis.
Modernization of the AML/CFT regime through technology and innovation
In order to streamline low-value processes and eliminate obsolete regulations, the new legislation provides for the appointment of an Innovation Officer at FinCEN and each federal functional regulator. Further, it provisions the creation of a BSA Advisory Group subcommittee on innovation and technology, a mandatory financial technology assessment by Treasury and a requirement that FinCEN maintain emerging technology experts. Separately, FinCEN must set standards for financial institutions when they use or test technology for BSA compliance. FinCEN must also establish "streamlined, including automated, processes to, as appropriate, permit the filing of non-complex categories" of SARs. As such, financial institutions may be able to automate the filing of certain categories of SARs in future, given that their technical tools meet upcoming FinCEN standards.
New BSA/AML Program Requirements
The AMLA includes a number of provisions, significantly changing the landscape for financial institutions implementing BSA/AML programs. They include:
FinCEN is required to provide financial institutions with information about financial crime concerns and patterns.
The Department of Treasury should establish national AML priorities within six months and financial institutions should incorporate these AML priorities into their risk-based programs to comply with BSA requirements.
FinCEN is required to periodically disclose to "each financial institution" a summary of information on SARs that "proved useful" to law enforcement "to the extent practicable".
FinCEN is also required to publish information relating to emerging money laundering patterns and trends, "including data that can be adapted in algorithms if appropriate." Financial institutions' BSA/AML programs will be evaluated on whether and to what extent they have incorporated FinCEN's published threat patterns and trends.
The enactment of AMLA marks the start of a new era of enhanced AML/CFT compliance in the US. It is important to note that the US remains one of the easiest jurisdictions in the world to set up a shell company, according to research from the University of Texas and Brigham Young University. According to a United Nations Report, money laundering activity and illicit cross-border financial flows have generated more than US$300 billion annually in criminal proceeds. The provision for UBO disclosure would now aid US intelligence and law enforcement agencies to better investigate illicit financial networks with increased access to information. "The current holes in our financial system pose a serious threat to national security. We can patch those holes by increasing corporate transparency requirements and handing our federal agencies the 21st-century tools they need to combat these 21st-century threats," said Senator Mark Warner (Virginia).
While it may take some time for the implementation of AMLA to the fuller extent, US financial institutions should expect a wave of regulations and guidance in the next few months. Multinational financial institutions should also need to be familiar with the AMLA provisions and start applying the required modifications in the AML compliance programs.
Globally recognized for its innovation, Tookitaki offers the Anti-Money Laundering Suite (AMLS), an end-to-end AI-powered anti-AML/CFT solution that ensures operational efficiency, low risk and better returns for financial institutions. Our solution has been proven to adapt to frequent changes in regulations across jurisdictions and produce consistent results. The solution is validated by leading global advisory firms and banks across Asia Pacific, Europe and North America.
We offer AMLS as a modular or end-to-end platform across the three pillars of AML activity:
Transaction monitoring,
Name and Transaction screening
Customer risk monitoring
Powered by advanced machine learning, Tookitaki's AML compliance solutions can help financial institutions revamp their compliance programs for enhanced productivity and minimise risk.
For a demo of our award-winning AMLS solution, please contact us.
Content that might peak your interest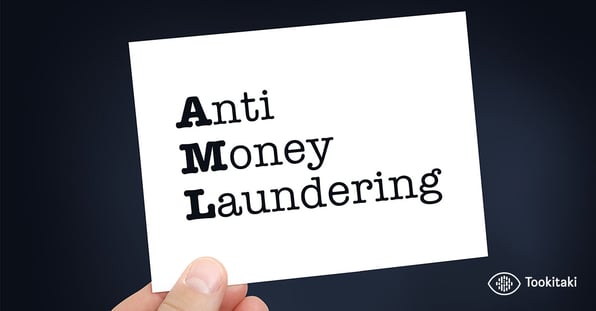 August 31 2021
4 mins
Research suggests that financial institutions are increasingly adopting technologies such as AI and machine learning (ML) for anti-money laundering (AML) compliance in response to the COVID-19...
Time to reform your compliances
Kickstart your journey by exploring our products or request a demonstration with us