Founded in 2014 Tookitaki is a regulatory technology company offering financial crime detection and prevention to some of the world's leading banks and fintech companies to help them transform their AML and compliance technology needs.
Designed on three C-principles – comprehensive, convenient, and compliant – Tookitaki's AML solution empowers financial institutions to strengthen their risk coverage and mitigate risks seamlessly in the ever-evolving world of regulatory compliance.
Tookitaki's Anti-Money Laundering Suite (AMLS) is an end-to-end operating system that is revolutionising financial crime detection and prevention for banks and fintech companies. What makes AMLS a game changer in this space is how we are improving risk coverage by democratizing AML insights through a privacy-protected ecosystem of AML expert network.
Tookitaki's innovations in regulatory compliance have been acknowledged worldwide.
In 2020, the company won the Regulation Asia Awards for Excellence and G20TechSprint accelerator. In 2019, the company was selected as a Technology Pioneer by the World Economic Forum. In 2022 Tookitaki joined the Thunes global network.
Tookitaki is committed to continuing to make diversity, equity, and inclusion part of everything we do—from how we build our products to how we build our workforce. In the past few years, we have doubled in size—today, we have more than 100 employees all around the world, making Tookitaki a success.
We believe success is the creation of a diverse workforce of individuals with different ideas, backgrounds, strengths, and interests. We celebrate what makes our employees different and being an international brand, we have a heartfelt mission to make everyone feel welcome, included and safe to be themselves.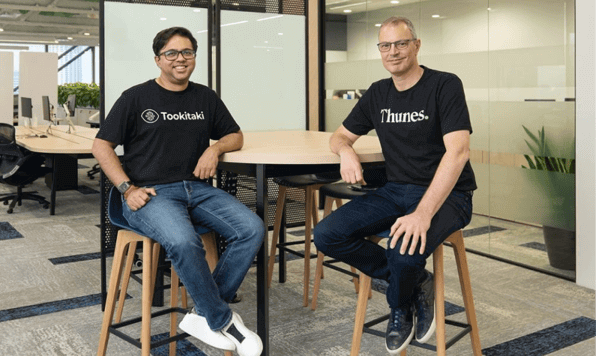 Our Values
Growth
We think big and constantly challenge ourselves via a growth mindset. We believe that our people are our strongest asset and we invest time into helping them grow and evolve.
We have an uncompromising approach towards training and nurturing the best professionals in the industry, designed to help them maximise their full potential.
Grit
We have a team that focuses on being brilliant against all odds. They truly care about the client and being part of the bigger picture. We tackle problems and develop proficient solutions on an ongoing basis.
Teamwork
Like our software, we don't work in silos. We've created an environment that nurtures open communication and enthusiasm.
We have teams working with each other from all around the world, in multiple time zones, at different levels of their career and from all walks of life.
We create a positive workplace based on mutual respect and support every step of the way.
Innovation
We dare to be different, we are always learning, and we want to find a way to do things that breaks the mould.
We embrace new ideas that are big or small and strive to make the impossible possible.
We love software, but using our business to make the world a better place makes our work meaningful. We are on a mission to improve lives by tackling money laundering.
Crimes such as human trafficking, drug trafficking, illegal arms deals and many more are tied to money laundering. Vulnerable people are being affected daily by this corruption. We offer resources, information and a strong commitment to helping eliminate money laundering and related crimes.
We have worked closely with the survivors of human trafficking to understand the patterns of behaviour around these heinous crimes and determine how we can help tackle them. Our work in this endeavour is driven by a responsibility to help make the world a safer place for everyone.
We still have a long way to go, but we want to lead from the front, where crimes such as trafficking and terrorism can be eliminated via the prevention of financial crime. Your voice and ideas can help us.
Thank you for joining us on this journey.
Kickstart your journey by exploring our products and job openings.